Buying a pair of headphones should not be hard, but with the number of brands and hundreds of headphone models, choosing a pair of headphone that matches up to your preferences is not going to be a walk in the park.
With headphones, there are many factors to consider, fit of the headphone, headphone design, type of the headphone driver, wired or wireless, sound quality and much more. Should you choose to lean your options much towards the better sound quality, the price might be higher.
On the other hand, if want to spend the smallest amount possible, be prepared to compromise the sound quality which is the latter with cheap headphones in the market but not always.
So before you visit your local store or an online retailer to buy a headphone, put your priorities in order, list things you truly need in a headphone and what you can do without.
Nobody wants to waste their time listening to poor audio on an expensive smartphone.
Nothing is more frustrating than the headphones they provide us.
Furthermore, we always want the best in-ear wired headphones that offer the best sound possible.
The good news is there is a HUGE selection of best in-ear headphones with mic in India under Rs 1000.
How to select the best in-ear headphones for you?
Ultimate Headphone Buying Guide for Music Lovers
Since there are millions of options to choose from, you might get confused on deciding actually which is the one should buy. So if you are confused we have the perfect solution for you.
So there are certain requirements that need to be checked and then follow a kind of step by step process in order to purchase the perfect headphones for yourself.
First of all, decide on your budget. Search for the earphones which come under your budget.
Then from them, you select the earphones which have the kind of bass you require. After that check the durability of the product.
The one which fits the perfect bass, pitch, sound clarity and very importantly checks whether it will perfectly fit your ears or not.
Also, don't forget to check its compatibility with your phone. The one which gets ticked for all your preferences chooses that one.
First, don't be afraid to try something new. Always remember, its okay to mix brands.
So when you're going to buy new headphones, please make sure to follow these steps:
Fit
Wire length
Bass
Degree of noise cancellation (For more on Noise cancellation read this.)
---
Don't like reading much? Watch the video then!https://www.youtube.com/embed/h_h5qQhTqPA?
---
Take a quick look of the products we have discussed below:
| Model | Sound Quality | Ratings |
| --- | --- | --- |
| Sennheiser CX 180 Street II | 4.3 | 4.2 |
| J3 Deep Bass | 3.8 | 3.9 |
| House of Marley Smile Jamaica EM-JE041-SB | 4.2 | 4.1 |
| JBL C100SI | 4.1 | 4.1 |
| Mi Earphone Basic with Ultra deep bass | 4.2 | 4.0 |
| Sony MDR-EX150AP | 4.1 | 4.0 |
| boAt BassHeads 225 Special Edition | 4.1 | 4.1 |
| Boat BassHeads 100 | 3.9 | 4.0 |
| Panasonic RP-TCM125 | 4.3 | 4.4 |
| Boat BassHeads 152 | 4.1 | 4.1 |
| JBL Endurance Run Sweat-Proof Sports Headphones | 4.3 | 4.2 |
| Samsung EHS64 EHS64AVFBECINU | 4.2 | 4.2 |
| Samsung EO-HS130DBEGIN Stereo Headset | 3.9 | 3.9 |
| Realme Buds 2 | 4.4 | 4.4 |
| Mi Dual Driver in-Ear Earphones | 4.0 | 4.0 |
15 Best in-ear headphones with mic MUST BUY in India under 1k in 2020
Now in this article check out some of the best in-ear headphones under 1K, which is also quite affordable:
1. Sennheiser CX 180 Street II In-Ear Headphone
With over 30k+ customer reviews on amazon, Sennheiser CX 180 Street II In-Ear Headphone tops our list of high-quality headphones under Rs 1000. Remarkable Engineering Unified with Ace Sound Quality, the ideal companion to all your audio devices is here.
Notable features
Innovative finger-contoured housing design enables for easy adjustment and optimal wearing comfort
Powerful, bass-driven stereo sound
Good attenuation of ambient noise
Optimized for mp3, iPod, iPhone, CD players, and portable gaming systems
Sennheiser CX 180 Street II In-Ear Headphone Reviews
Amazon Ratings >> 4.2 out of 5 stars (Total rating 30k+)
2. J3 Deep Bass Hi-Fi Stereo Sound In-Ear earphone with mic
While surfing through Amazon I found this earphone from the future, it caught my attention. I was shocked to see the reviews it got being a totally unknown brand in this section hence making its place on my list.
Notable Features
Future J3 is designed with high bass-driven stereo sound technology for deep bass.
Ultra-Lightweight in-ear headphone for comfort.
10 mm High Powered dynamic speaker for Feel-To-The-Heart bass response from the earphone.
It comes with two sets of different sized earbuds so that you can wear the size fit for you.
Future J3 In-Ear earphone reviews:
After using it for a couple of days, one thing that I can say is that it lacks in bass otherwise this is a good budget headphone under 500 INR. Also, it is tangle-free, time saver lol.
Amazon Ratings >> 4.8 out of 5 stars (Total 250+ ratings)
3. House of Marley Smile Jamaica EM-JE041-SB in-Ear Headphones with Mic
I was completely unaware of this brand, they manufacture quite high-quality headphones which I recently saw and this one that I've mentioned here has a premium look.
Nobody will be able to guess that it's selling under 1K in India by looking at the classic wooden design.
Notable features:
It is equipped with noise isolating earbuds for delivering crisp sound with powerful bass.
The wires are too some extent tangle-free.
The headphone wire is about 52 inches long.
House of Marley Smile Jamaica EM-JE041-SB Reviews:
Amazon ratings >> 4.1 out of 5 stars (Total ratings 6000+)
---
4. JBL C100SI In-Ear Headphones with Mic
Now comes the king of all headphones and earphones, JBL. All earphone freaks are crazy about JBL and for the right reasons because it is the best amongst the best.
This one is a simple earphone by JBL, rest is a bit too expensive. But that doesn't mean that it compromises with the sound quality. This earphone comes in three colour variants.
JBL bass is pure and true bass so yes clarity of the sound and feel of the music remains with you for a long time. It is lightweight and very comfortable to wear and carry. It comes in three size plugs.
It is compatible with any android device and googles assistant. Google Assistant can be accessed by long press. It has a premium metallic finish. It has one button remote microphone. It has a 3.5 mm gold plated jack.
It has a noise-canceling microphone. JBL also provides a one year warranty with this product.
3 different sizes of earbuds are giving to choose the right fit.
High-quality HD sound with good bass
3.5mm connector with 1.2m long cable.
JBL C100SI In-Ear Headphones with Mic reviews:
I think a brand like JBL needs no to the little introduction, therefore check it out yourself only. To know more about the product, click on the link below.
Amazon ratings >> 4 out of 5 stars (Total 60K+ ratings)
---
5. Mi Earphone Basic with Ultra deep bass
It comes with 2 extra silicone earbuds
Ergonomically angled to fit your ear canal for long-lasting comfort
Highly durable, corrosion-proof, scratch, and slip-resistant
CNC technology and dynamic bass
Mi Earphone Basic with Ultra deep bass Headphones reviews:
Mi has not disappointed at all, this product is very good in terms of quality and deep bass experience. Though thew noise cancellation is average. The wires are certainly tangle-free.
6. Sony MDR-EX150AP In-Ear Headphones with Mic
Go through so many sony headphones I found this one to be on par with others that are mentioned there in this article. The sound quality is truly amazing and the bass is excellent you can enjoy desi music.
In-line Mic for hands-free calling
9 mm neodymium drivers for powerful, balanced sound
Lightweight for ultimate music mobility
Comfortable, secure-fitting silicone earbuds for long listening hours
Shiny metallic finish housing
5 Hz-24,000 Hz frequency range
Sony MDR-EX150AP In-Ear Headphones Reviews:
7. boAt BassHeads 225 Special Edition
10mm driver for crisp& clear sound.
It has noise cancellation technology that means enjoy your music without any external noise
The earbuds fit comfortably, you can enjoy music for a longer period of time.
It also has a Passive noise cancellation feature.
Made from polished metal for longer life span.
last but not least tangle-free wires.
boAt BassHeads 225 Special Edition Headphones Reviews:
---
8. Boat BassHeads 100 Hawk Inspired Earphones
The boat is also one of the most popular headphone companies in the Indian market as we know. Boat manufacturers all kinds of headphones, earphones, Bluetooth, speakers and such kinds of sonic gadgets.
This model is the most common one amongst the in-ear headphones which is produced by Boat. It comes in seven color variants so one chooses according to their own satisfactory or most likely favorite color.
Its design is like a hawk and hence its name is also 100 HAWK inspired earphones. This earphone claims to have the perfect length which most people require.
It also comfortable and perfectly fits into your ears. It also has an in-line microphone which functions as an HD microphone helping in making crystal clear phone calls and thus serves all purposes one desires from earphones.
The clarity of sound is unmatched. This earphone has a super extra bass. It has a powerful speaker since it is made up of a 10mm driver with a sound resistance of up to 16 ohms.
It also has play/pause music or answer/end button for calls which makes it extremely user-friendly. In contrast to the number of features and kind of quality, it has the price is very reasonable and can be afforded by most.
To know details about the product and to purchase it click on the link given below:
---
9. Panasonic RP-TCM125 Ergo-Fit Stereo Headset
Like Sony and Boat, Panasonic is also another brand name that is very popular for such electronic consumer devices or sonic gadgets. If trust comes with the brand name then definitely this brand passes as a reliable brand for headphones.
This model from Panasonic is one of its best-manufactured earphones that has high quality with numerous features. It comes in five color variants. It is said to have an ergo fit that is, it comfortably fits into your ears.
It also has a stylish design which gives it an extraordinary appearance which is attractive. It has a built-in integrated Inline Switch and Mic which flawlessly lets you switch and play different music or control calls as you like.
It is compatible with iPhone, blackberry and android devices. It has a comfortable length 3.6-foot color-matched cord which imparts comfort and flexibility.
It has a 9mm driver and an octarib speaker which makes the sound more powerful and clear.
Amazon offers it at a price of Rs 799. To purchase this product click on the link below:
10. Boat BassHeads 152 with Angled Jack Wired Earphones
Here is another model of earphones by Boat itself. It is also though similar to it's previous one but also has some added features and advantages to it. It comes in three color variants.
First of all, it has a very stylish look indeed. It has a super extra bass and an in-line microphone with a multi-function button. It has a 10mm driver which imparts a premium sonic experience.
It has a 3.5mm angled jack- plugs into convenience with the 3.5 mm angled jack. Its cable is durable and highly resistant. It is superiorly coated.
To know more click on the link given below:
---
11. JBL Endurance Run Sweat-Proof Sports in-Ear Headphones
Here is another product from the master's company. This one's a bit less expensive than the previous one. This is probably the best in-ear headphone to buy online in India in 2020.
It features:
TwistLock and FlexSoft Technologies
8.6mm driver to give you an excellent music experience
Access to Google Assistant & Siri with the touch of a button
Noise isolation feature for the mic.
IPX5 Sweatproof
Ultra-lightweight earphone for a comfortable fit
Magnetic earbuds
To purchase this product, click on the link below.
12. Samsung EHS64 EHS64AVFBECINU Hands-Free with Remote Note
Samsung is our very own company. This earphone features in black and white variants. It has a remote note. Produces high-quality sound notes. It has a defined bass and treble which gives an absolutely balanced audio experience.
These earphones are lightweight portable and really very comfortable to use. It can be used for as long as desired. The headphone jack is 3.5mm. It comes with a 6 months warranty and in-ear volume control.
The sound is just perfectly clear.
Its Amazon price is Rs 349. To purchase this product, click on this link to purchase this product
13. Samsung EO-HS130DBEGIN in -Ear Volume Control Handsfree
Here is another product from Samsung, this is a bit more expensive than the previous one but also better features as compared to the previous one. It comes in three color variants.
It has high definition audio with an 8mm Dynamic Driver and 1.2m Balanced Tangle-Free Cable with Comfort Ear Tip (S/M/L). The plug is Gold Plated 3.5mm.
It also provides 6 months warranty. The ergonomic design keeps you in control. Its Amazon price is Rs 697. To buy this product click on the link below:
---
14. Realme Buds 2
If you've used a smartphone from Realme then you'll know how reliable and trustworthy this brand is. And their product is no doubt of the best in the market.
Realme Buds 2 is one of the best in-ear headphones to buy under 1000INR in India 2020. The premium design, crystal clear sound and deep bass makes it a must-have gadget for music lovers.
Features:
11.2mm drivers for deep bass consisting of the multi-layered diaphragm to help in delivering the accurate bass.
One dedicated button for answering incoming calls, play, pause videos & music and also access virtual assistants like Google and Siri.
Long & durable cable which comes with two TPU wires also.
Elegant & true attractive design. Perfect for the youngsters.
Click on the button below to check it out on Amazon.
15. Mi Dual Driver in-Ear Earphones with Mic
Mi is launching new electronic products every then and now. This Mi Dual Driver in-Ear Earphones with Mic is also one of those newly launched headphones from Mi.
The special feature in this earphone you can already guess is its Dual dynamic driver. The function of dual-driver is to provide powerful bass & crisp treble by focusing on all frequencies and low distortion.
It also has passive noise cancellation technology to give an immersive music experience. Its tangle-free braided cable helps you from the trouble to untangling each time you take it out of your bag or pocket.
The earbuds of this headphone have a magnetic suction design so that the two earbuds stay together, thus useful in keeping them in a bag or pocket.
Notable Features
Dual dynamic driver
10mm & 8mm Dynamic Drivers
Passive Noise Cancellation
Magnetic Earbuds
Tangle-Free Braided Cable
---
Headphone Buying Guide Cheat Sheet
If you're only going to read one thing, read this.
Here are the most important things to ask yourself and know when choosing your next pair of headphones, in bitesize form.
How will you be using them? Are you looking for headphones that don't fall off when you jog? Or headphones that block out the world on a crowded plane? The point: how you plan to use your headphones should influence which type you buy. And there are several types.
What type of headphones do you want? On-ear headphones rest on your ears, while over-ear headphones cover your entire ear. And though in-ear headphones aren't best for pristine audio quality, you can do jumping-jacks in them – and they won't fall out.
Do you want wired or wireless? Wired = a perfect full-strength signal, always, but you remain tethered to your device (your phone, mp3 player, TV, etc.). Wireless = you're free to move around, even dance with wild abandon to your favorite song, but sometimes the signal isn't 100%. (Though most wireless headphones do come with a wire, so you get the best of both worlds.)
Do you want closed or open? Closed as in closed-back, meaning no holes to the outside world (everything is sealed). Open, as in open-back, with holes and/or perforations to the outside world. Close your eyes, and the former ensures you remain in your own world, with nothing but the music. The latter lets your music out, creating a more natural listening experience (similar to a regular stereo).
Choose a trusted brand. We have a rep for testing and vetting brands — we put them all through the wringer.
Buy your new headphones from an authorized dealer. And get the manufacturer's warranty, service, and support. (In our case, guaranteed support even long after the sale.)
Or just skip the rest of this and buy one listed here: The Best Headphones of 2020. Then give yourself a standing-O. You now have what our experts are calling one of the best pair of headphones anywhere, at any price. Any questions? You're welcome to call and speak to one of our experts– anytime.
WHAT TO CONSIDER WHILE BUYING A HEADPHONE?
TYPE OF HEADPHONE
The first thing you are going to want to decide after chalking out your budget for the imminent purchase is your preferred headphone type. There are three primary variations in headphones styles which include in-ear, on-ear and over-ear headphones. 
IN-EAR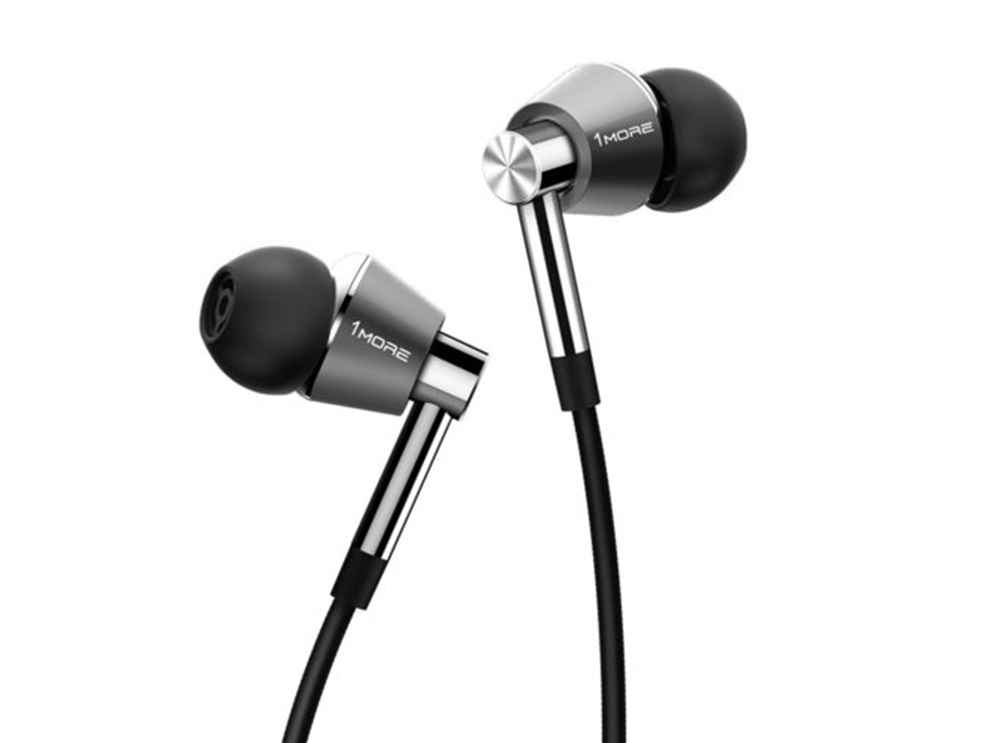 Also known as earphones or earbuds in common parlance, in-ear headphones are the most portable out of the three types and are inserted into your ear canal. In-ear headphones can range from disposable models which you get on aeroplanes to earphones smartphone manufacturers include with their products, all the way to high- end buds that attempt to match full-size models sonically. Some models, particularly sport ones, come equipped with wings or fins for a tailored and secure fit.
PROS
+ Compact and lightweight
+ Great noise isolation
+ Suited to active lifestyles
CONS
– Tangle easily
– Easy to misplace
– Sound quality generally suffers due to size
ON-EAR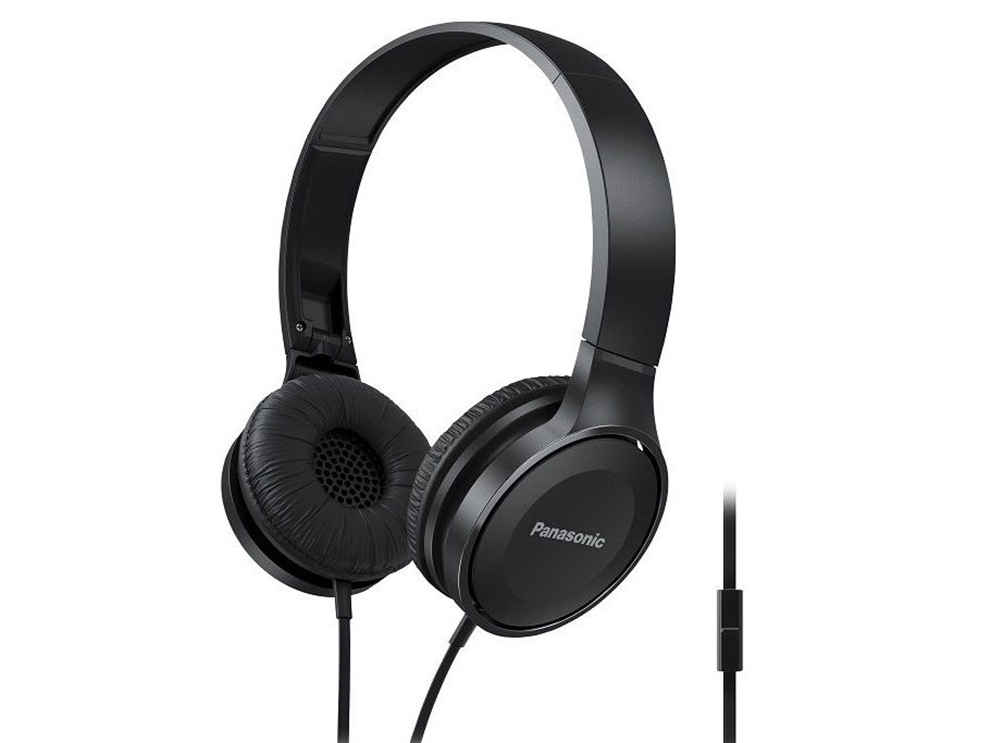 On-ear or 'supra-aural' headphones are ones that rest on top of your outer ears but do not entirely envelope or enclose your ear. The headphone band usually goes over or behind your head on these headphones. These are generally smaller and lighter than over-ear headphones and come in open-back and closed-back variations. On-ears will also let more ambient noise pass through than over-ears.
PROS
+ Relativelycompact
+ Producelesserheatontheears than over-ear headphones
CONS
– Relatively poor noise isolation
– Can cause discomfort (too much pressure on ears or pinches ears)
– Leaks sound
– Less powerful bass than over-ears
OVER-EAR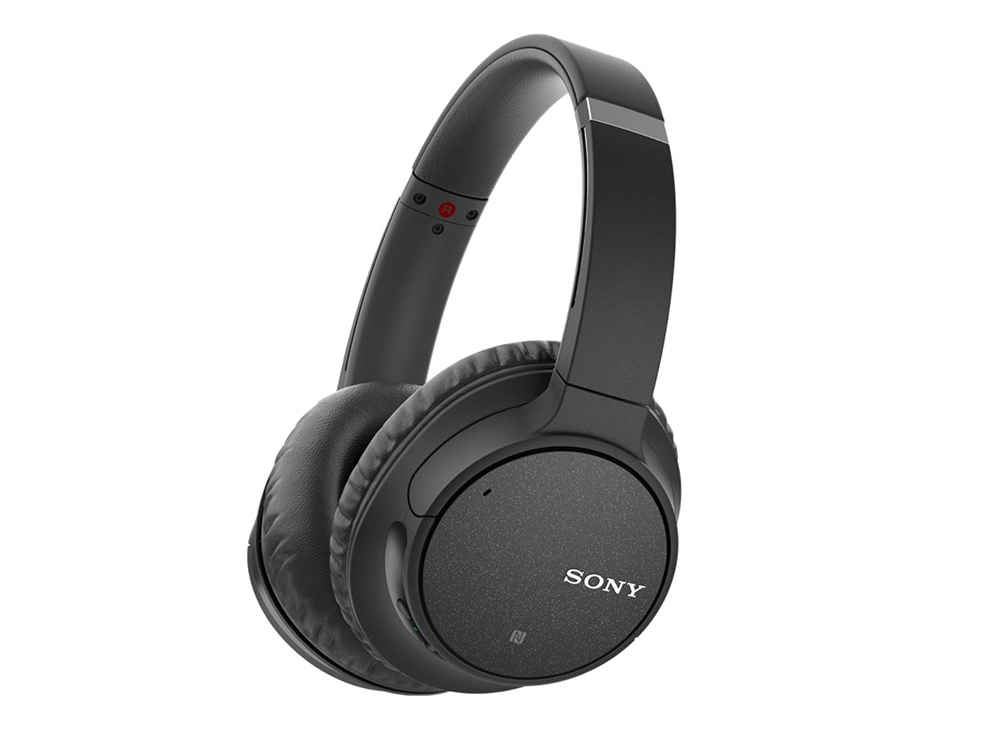 Also called circumaural headphones, over-ear headphones include those that fully encompass your ears. These are the largest of the three types of headphones, and they also come in closed-back and open-back versions. Over-ear headphones are usually the most comfortable of the three types, and the closed-back ones provide excellent natural acoustic isolation.
PROS
+ Usually have great sound quality + Most comfortable
+ Larger soundstage
+ Good isolation
+ Maximum potential for more bass and loudness
CONS
– Least portable
– Produce heat on the ears – Usually more expensive
CLOSED-BACK OR OPEN-BACK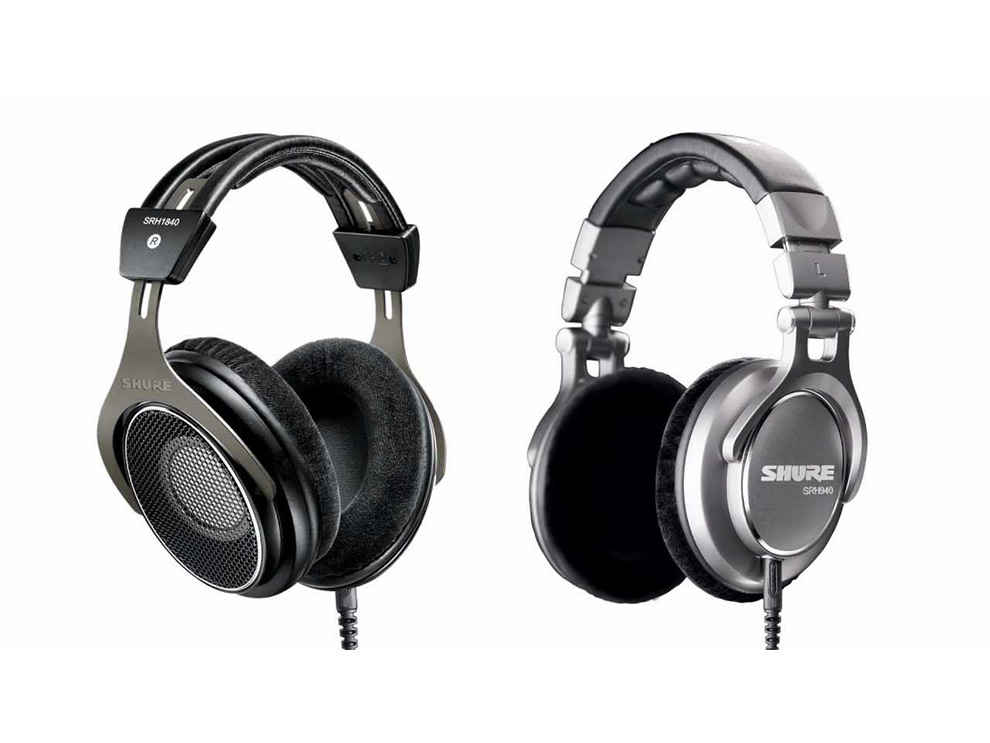 A closed-back pair of headphones comes with an outer casing with no holes or vents, which traps the sound inside the cups and also keeps external noises out. This can sometimes cause your music to sound slightly unnatural, especially when compared to open-back headphones, however, they definitely provide a punchier bass output which could be due to the slight echos in the bass notes. Nevertheless, they are the better choice for commuting and listening to music in places such as your office, airplanes, or anywhere in public. These are also better for recording and audio mixing since the isolation is critical for these tasks.
Open-back headphones are more acoustically transparent and allow the outer sound to be heard by the headphone user. They allow air to pass through the ear cups and avoid pressure build-up. Many premium, high-end headphones come with open-backs to enable them to sound more natural. However, these headphones lose all their appeal if you're not in complete silence. They let a lot of sound in, which distracts you from listening and additionally, they also have massive sound leakage. So, if you're in a public place, everyone sitting relatively close to you will be able to hear the music, and you will be able to listen to them complain about it! They are also slightly more fragile than closed-back headphones since moisture could get into it more easily and wreak havoc on the electronics within.
So, the bottom line is that open-back headphones sound more natural, but closed-backs are better for listening to music outside your home or studio.
WIRED VS WIRELESS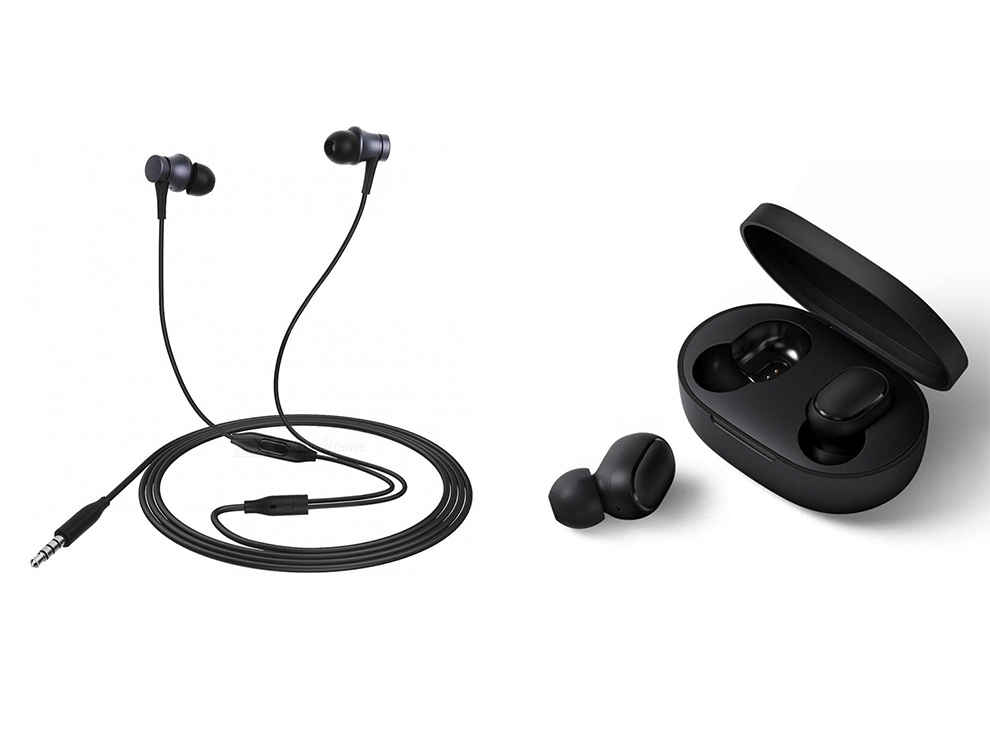 Over the past few years, wireless headphones have exploded in popularity and are dominating the market. Also, since Apple released the AirPods in 2016, true wireless earphones have become the rage, and most audio brands have decided to dip their beak into this lucrative market. Let's look at the wired and wireless categories.
WIRED HEADPHONES
In-ears, on-ears and over-ears have wired variants which are usually hailed as the more dependable choice in the audio world. Audiophiles typically swear by the sound quality of wired headphones since they receive an analogue signal which can handle more data than Bluetooth can. Lossless formats such as FLAC, WAV, or ALAC sound much better on wired headphones than on their wireless counterparts. However, Bluetooth technology in audio is catching up very fast.
Nevertheless, wired headphones have no lag and do not need constant topping up of the batteries like in wireless headphones. Many are also coming in USB-C and lightning variants to address the absence of the 3.5mm jack on smartphones. However, the cable itself can sometimes be problematic since some of them tangle and/or break very easily. 
WIRELESS HEADPHONES
Wireless headphones and earphones are slowly but surely becoming the go-to listening device for consumers. This has been accelerated due to the expulsion of the 3.5mm audio jack on smartphones. It also eliminates cables, except the headband or the cable connecting the two earbuds or ear cups, and allows for more mobility. 
Wireless headphones are also equipped with new and improved Bluetooth codecs such as AAC, AptX, AptX HD, AptX Low Latency that improve the listening experience and/ or solve latency issues. However, wireless headphones are usually costlier than wired ones. The other problem is having to keep them charged consistently. Wireless headphones typically come with a battery life of 15-30 hours while wireless earphones' battery life ranges from 6-18 hours.
TRUE WIRELESS EARPHONES
The new kid on the block, true wireless earphones is now an immensely popular segment in audio products. They are in-ear headphones that are stored in a case which also doubles as a charger for them. They're extremely portable, great for an active lifestyle and are completely free of cords and tangles. Most of these even come with impressive battery life, the average being around 5-8 hours on the earbuds themselves with an additional 2-3 recharges from the charging case. However, they are exceptionally easy to lose due to their tiny form factor. 
IMPEDANCE
It is integral to match the impedance of the headphones to the device (source) you will be using it with. We're not going to get into the exact technical definition of impedance. Just know that most headphones which come packing low impedance (16 to 32 ohms) require less power to drive high audio levels. So, low impedance headphones will work well with devices with weak amplification abilities such as portable music players and smartphones. Meanwhile, headphones with high impedance demand more power to deliver acceptable audio levels. So, studio headphones with an impedance of say 250 ohms, such as the Beyerdynamic DT-880 Pro, will require a dedicated source of power (such as amplifiers) to drive it. So, you should extensively research this. Headphones with low impedance are also susceptible to 'blow outs' when using powerful amplifiers, so be wary of that.
SENSITIVITY
If you're extremely nit-picky about your headphone's volume levels, you should look into the sensitivity of the headphones. Sensitivity specifies how loud a pair of headphones can get. Most headphones come with a sensitivity of around 96–110 dB approximately. Headphones below 85 dB would be too soft and should be avoided, and above 110 dB could potentially damage your hearing abilities.
DRIVERS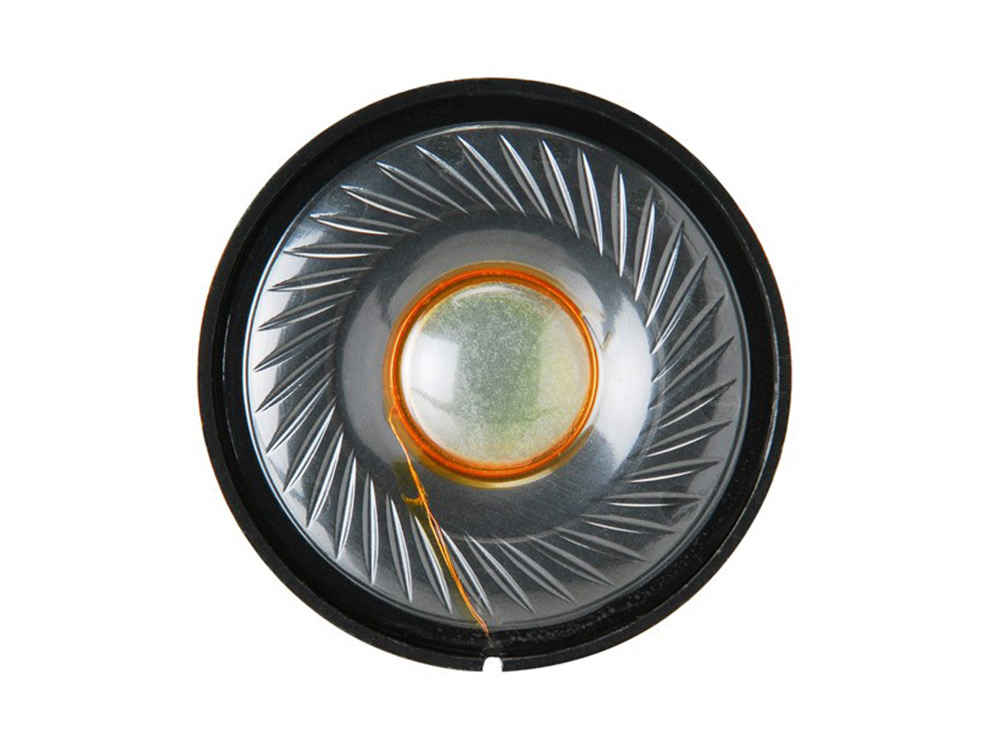 Drivers in headphones are responsible for turning electrical signals into sound pressure. In most cases, the larger the driver, the better the overall sound quality. Drivers boost the bass, mids, and the treble to allow for an enjoyable listening experience. There are primarily two driver technologies, balanced armature and dynamic. Balanced armature drivers typically are tuned to sound good in a specific frequency range. They also provide better isolation due to the absence of a vent within. How- ever, they lack the superior bass quality of dynamic drivers. Dynamic drivers are also more durable and cheaper than balanced armature drivers.
COMFORT AND FIT
It is important to find headphones that are best suited to provide you with hours of comfort. Usually, over-ear headphones are the most comfortable, but even here, you have to be wary of a few things. When buying over- ears, ensure that the headband doesn't dig into the top of your head or cause you any discomfort. Usually, headbands with memory foam or regular foam layer will aid comfort. Ensure that the ear cups are plushy and comfortable as well. Memory foam ear cups are the best since they conform to the unique shape of your ear. The covering over the memory foam will usually be leather or mesh. Leather is comfortable but could become too hot after extended periods of usage. So, the mesh would be a better option for long hours of listening.
However, mesh does negatively impact sound leakage and isolation. When it comes to in-ears, the golden standard is memory foam ear tips. These also conform to the shape of your ear canal and provide increased isolation and better bass output. However, regular rubber tips can also be effective if you find the right fit. Some audio manufacturers, such as 1MORE provide a slew of eartips of various shapes and sizes. This allows users to find a hyper-customised fit which aids in overall comfort and also helps you get a better listening experience. Also, try to find in-ears with angled nozzles (the tip of the buds). These are more ergonomic and help attain a better fit.
SOUND PROFILE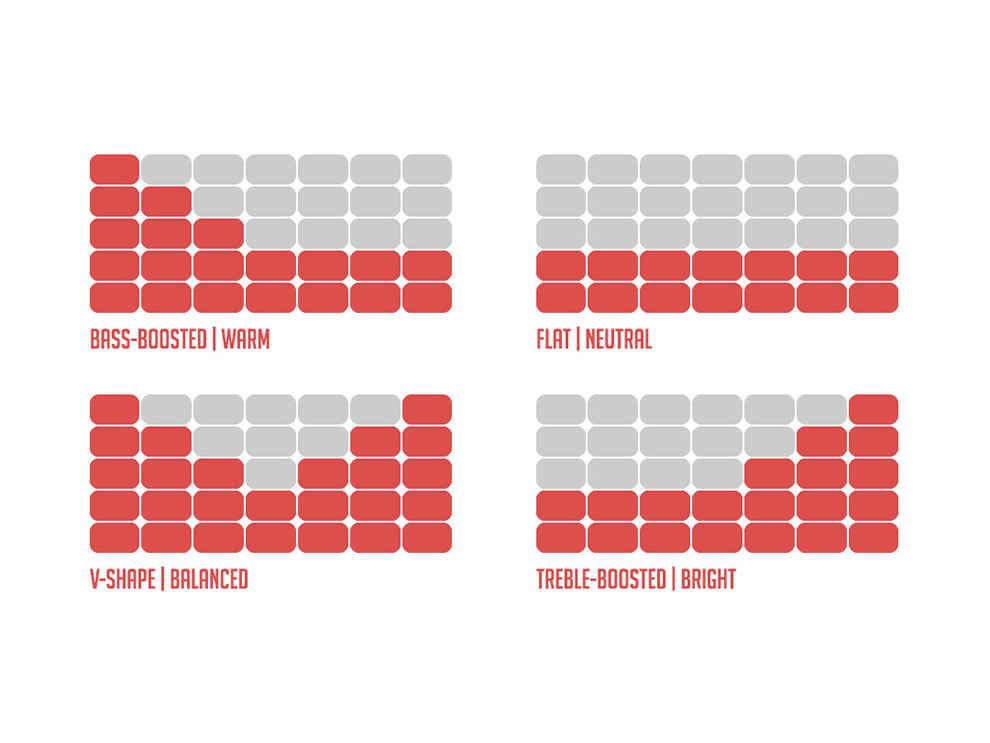 Source: audioreputation.com
Consider the sound profile you enjoy most and buy headphones that fall within that category. There are three primary sound types – warm, neutral and bright. Neutral is considered the holy grail of high-end audio listening and audiophiles usually chase after the neutral sound profile to hear the 'purest' audio. However, neutral headphones are extremely elusive and rare since they would have to reproduce every frequency of sound in equal measure.
Most headphones have their voicing and even headphones claiming to be neutral most times, are not really neutral in the true sense. So, you would be better off trying to find a balanced sounding pair of headphones with some hint of warmness or brightness. 'Warm' sounding headphones tend to tilt towards the bass frequencies making vocals and bass more prominent. They usually have a mass-appealing sound signature and sound 'comfortable'. Some warm headphones though are extremely thumpy and bass-heavy, and you should steer clear of those since they mess with the integrity of sound. 'Bright' sounding headphones are better at reproducing the trebles high-pitched sounds. They can reveal hisses and imperfections in recordings, so casual users usually wouldn't want to hear this in their everyday use. Additionally, headphones that sound too bright can be fatiguing to listen to over time.
ACTIVE NOISE CANCELLATION VS PASSIVE NOISE ISOLATION
ANC (Active Noise Cancellation) is now an extremely prominent feature which users have come to expect from high-end audio products. Even in-ears come with ANC, enabling to be engulfed in a cocoon of sound entirely can be appealing to some. They work by using microphones within the headphones to analyse ambient noise and then produce an 'opposite' sound waves to cancel the sound altogether. However, some people find the ANC experience jarring since they have been known to hurt some people's ears and cause headaches due to the heightened pressure. They also drain the battery of wireless models a lot quicker than headphones with simple passive noise cancelling. However, if you are constantly in noisy environments or travel in aeroplanes very often, ANC headphones can be useful since it cancels out even small, annoying sounds such as the AC hum, airplane drone, and more.
So, if this level of isolation appeals to you, consider buying ANC headphones. If not, purchase headphones with regular (passive) isolation. Headphones with passive isolation are cheaper and are decent at limiting external sounds.
WHAT NOT TO CONSIDER WHILE BUYING A HEADPHONE?
FREQUENCY RESPONSE
This spec tells you the range of sound that the headphone is capable of producing. The range is measured in Hertz (Hz) and usually the frequency range in most headphones is around 20Hz–20,000Hz. Why? Humans can only hear between this sound range, and that is naturally what products aim for. However, some audio manufacturers routinely have exaggerated frequency-response numbers to lure in customers. If the numbers are slightly off the range of hearing, this is not an issue since having a slightly wider frequency response, say 15 Hz – 25,000 Hz can give the sound at the extreme ends some room to breathe. However, beyond this, it is just a marketing ploy. Nevertheless, you don't really need to worry about frequency response numbers since you will not be able to hear the difference between a normal range and wider range unless you have bat ears.
AESTHETICS
This must be the last thing on your mind when buying headphones since over-the-top designs often lead to compromises. For instance, the Bose NC 700 comes with a unique design. It has a tapering headband that makes the headphones look very futuristic and aesthetic, at the same time. However, due to this design, the headband is not foldable, which results in users having to carry the bulkier than usual carrying case provided with these headphones. Only go for aesthetics when they don't hamper any integral features, the comfort, and sound quality of your headphones.